Enhance your practice by offering the most accurate diagnostic and treatment planning for dentistry using Mobile Dental CT Scan and Panoramic X-Ray. Even more, we service your patients at their choice of location. Whether at your office or their home and workplace, Mobile 3D Imaging comes to you. Most noteworthy, we believe this is an extension of your practice, without having your patients referred to another facility. Furthermore, our Doctor Information page will educate you further on our equipment and scan process.
Above all, the FDA recommends clinicians use dental CBCT to diagnose and teat disease. "The clinical benefit of a medically appropriate X-ray imaging exam outweighs the small radiation risk."
With us you can avoid unnecessary delays, facilitate patient management, reduce risk factors and improve case acceptance and production. Hence, Imagine the excellent patient service and convenience of having a Mobile Dental CT Scan and Panoramic X-Ray performed for immediate viewing. Therefore, our imaging vans make this possible. As a result, allowing you to continue to treat your patients with the quality care they are accustomed to receiving. Above all, without you having to purchase an expensive CBCT equipment and software. Call (800) 985-9269 to schedule an appointment.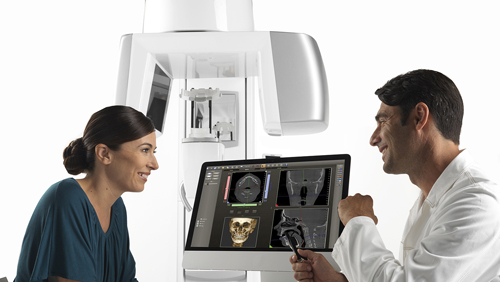 Our Services help you with:

- Enhanced diagnostic capabilities
- Patient education
- Treatment plan acceptance and referrals

 

- Implant Planning
- Bone structure (dehiscence, fenestration, periodontal defects)
- Inferior alveolar nerve location
- Paranasal sinus and maxillary sinus location and evaluation
- Impactions
- Odontogenic lesion visualization
- Endodontic evaluation
- Space analysis (because of the 1:1 image data of the CBCT)
- Airway studies for sleep apnea
- TMJ structure visualization
- Trauma evaluation
- Orthodontic eval & planning cephalometrics
- TADs (temporary anchorage devices)
- 3D virtual models
- Other CAD/CAM devices